Salon Precision Products - Spa Management Software
Spa Software Introduction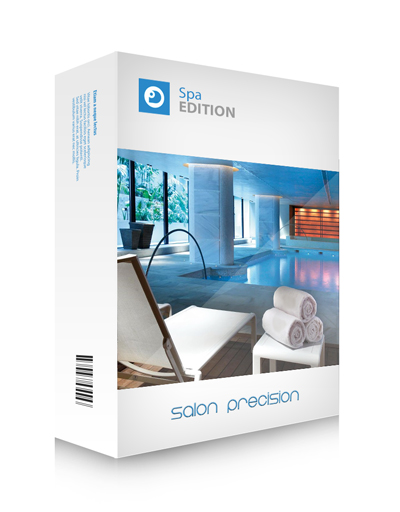 Salon Precision spa software is the essential management solution to boost your business's performance. Used by successful high street spas and spa complexes – the system covers all aspects of your business, from scheduling to management reporting and analysis. Salon Precision spa software is configured to meet your specific requirements. Each installation is personalised to reflect your business requirements and processes, giving you ultimate control and confidence over your business information.
Treatment scheduling
Staff, equipment & room allocation
Client records
Managerial reports & analysis
Backed up client database
SMS text messaging and email facility
Not only do we give you a great product, we provide live support, help and advice all year round from professionals with hands on experience within the beauty industry.
Spa Software Overview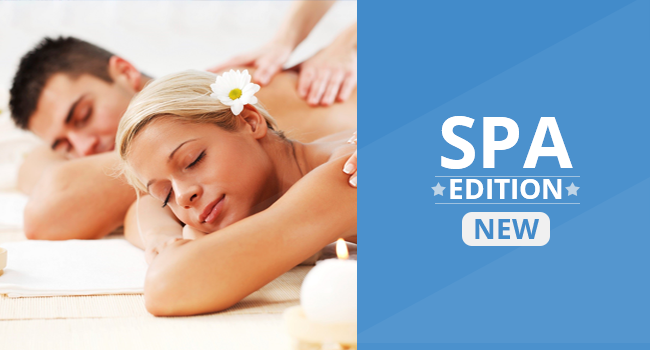 "Tools to help your business grow"
Salon Precision has a sophisticated and easy to use scheduling system available – making double bookings and appointments errors a thing of the past. The inbuilt point of sale system automates your stock control and tracks packages, courses and gift vouchers in one seamless process while keeping client records updated with every transaction made by that client.
Client relationship is the key in today's market for building long term relationships with your clients which will improve client loyalty and keep them returning through your doors. Up to date information gives you the power to make your mail shots more targeted and to help maximise your levels of customer care. The automated reporting within premier spa enables you to focus on your clients rather than on your paperwork.
Spa Software Features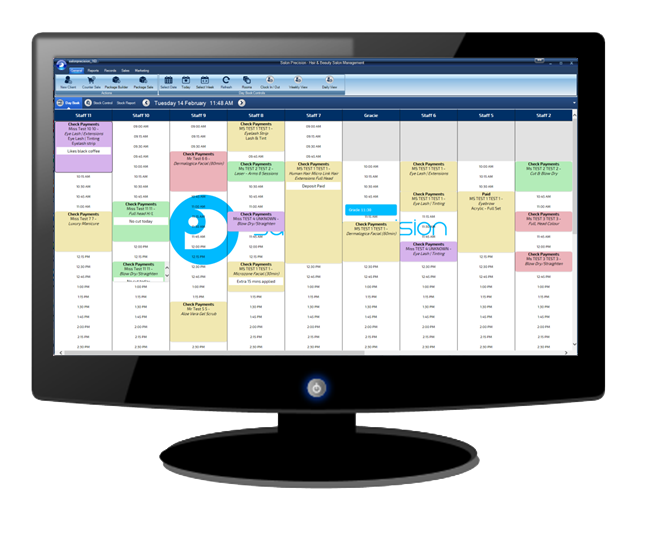 Salon Precision spa software customised for day spas at a great price, built from the ground up to accommodate any spa of any size and operation. Including all the great features from our salon software.
Sophisticated scheduling
Room / Equipment calendar view
Comprehensive point of sale
Complete client history
Stock control
Medical & contra indications
Comprehensive management reports
Package & course management
Detailed client/staff analysis
Touch screen compatible
Multi user
Training
Quality after sales support
Postcode validation
SMS text messaging
Bulk email facility
Customise Spa Software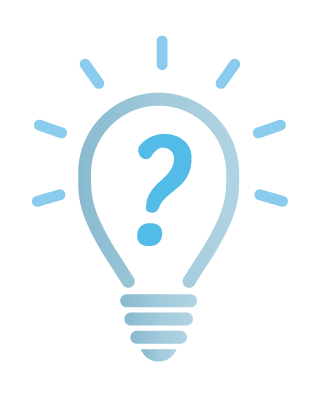 "We understand that every business is unique and operates differently and therefore your software should work around your business"
With this goal in mind, we like to accommodate our clients' needs and help them get the most from their software system.
We build our software with light weight architecture using an approach to publishing online in the say way that Smartphone Apps work. This means we can quickly evolve your own version to accommodate unique features relevant to the way your salon business operates.
3 Simple Steps to Get you started with Salon Precision

Download Demo
Choose from our Salon / Spa / Clinic demos to trial.

30 Day Free Trail
Your Demo will allow you to use Salon Precision with full remote support for 30 days!

Meet The Team
A member of Salon Precision will contact you during your trail period to provide support.
*Free referring to 'free 30 day demo trail period', once demo has expired - trial will terminate and a purchased subscription will be required to use your chosen salon precision product. Details will need to be submitted on demo request page - details will not be shared in accordance with our privacy policy.